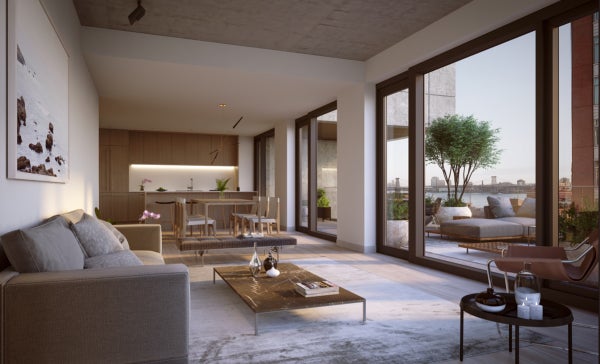 December 2019

Cooking Up Your New Life at 98 Front
With move-ins at 98 Front just around the corner, future residents of these stunning DUMBO condos are beginning to imagine their lives in this luxurious building. These spacious homes will make hosting everything from Thanksgiving dinner to New Year's Eve parties a breeze, while everyday touches ensure that daily life is just as stress-free. The exquisite concrete and glass Cubist facade from architect ODA gives way to warm wood tones within, creating a contrast not unlike the difference between DUMBO's past as an industrial hub and its future as a boutique residential neighborhood. The homes at 98 Front are equipped with floor-to-ceiling windows made of sound-attenuated glass that protects the interiors from the outside, revealing magnificent city views while enclosing the rooms in peaceful quiet.
The center of any residence is the kitchen, and developer Hope Street has spared no expense creating top-of-the-line cooking and eating spaces that will help residents make their condos into true sanctuaries. With freestanding islands dividing the kitchens from the dining areas, these homes are perfect for hosting friends and family or simply cooking up an intimate dinner in style.
The kitchens take their design inspiration from Scandinavia, with clean lines and simple shapes concealing a wealth of storage space and high-end appliances. Custom Italian cabinetry and shining Corian countertops and backsplashes give the kitchens a seamless look, with the kitchen islands presenting both a workspace and ample room for seating and eating, ideal for cozy breakfasts and hot gossip sessions. Adjacent windows (and private outdoor space in select homes) flood the kitchens with natural light during the day and provide a dynamic backdrop at night, with many looking out across the East River to Lower Manhattan.
Apart from ample counter space, home chefs need the best tools to bring their creations to life, and the kitchens at 98 Front are equipped with pieces from Bosch, the manufacturer that has dominated the luxury home appliances game for 70 years. These high-quality and reliable appliances will be there when it counts, whether residents are roasting a turkey for their family gathering or just boiling some water for a cup of tea.

Best of all, the kitchens at 98 Front have been constructed from environmentally friendly materials, creating a healthy space for food preparation as well as giving residents peace of mind in knowing that their home was built sustainably. So, make sure to check out availability at 98 Front. You could be enjoying your next holiday in one of these spectacular homes!