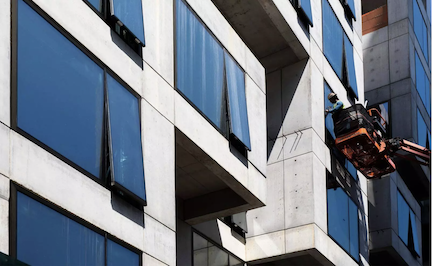 February 2021

ODA's cubic condominium complex brings dynamic form to DUMBO at 98 Front Street
Dumbo, Brooklyn has seen a myriad of new development—mixed-use and residential alike—flood the neighborhood in the past few years. With glistening glass complexes for luxury housing and new odes to its industrial history, the area located between the Manhattan and Brooklyn bridge is home to bustling activity on the waters of the Hudson River. Completed in 2020, 98 Front Street was one of the latest added. ODA's New York office introduced a cubed concrete structure with minimal materiality and dynamic form offering 165 unique condominium layouts with multiple amenities.
The Jenga-like structure, deceivingly elementary, exemplifies the firm's well-known and internationally acclaimed fractal design strategy. Due to the proximity to the Manhattan Bridge and Brooklyn-Queens Expressway, custom sound-proof windows manufactured by Alumil were needed. These windows were assembled in Greece with double insulated laminated glass provided by global glass manufacturers, Tvitec, based in Spain. The window wall system is comprised of 8'6" x 8'6" square windows set to encompass most of the exterior square facade for each cube.
"There is a simplicity in 98 Front Street's design in the materiality and process that accentuates the building's jewel box facade," said ODA founder Eran Chen. The unique facade design with terraces and setbacks spaced asymmetrically added a layer of complexity. Vertical MEP distribution required several horizontal offsets. "To provide residents with the best living experience we played with the geometry and layouts to create open floor plans that allow for flexible programming for living, working and entertaining at home, while maximizing the available light, air, and outdoor spaces of each residence. Each of our nearly 50 residential buildings across New York City has its own unique geometry and personality and we're excited to see 98 Front join the ranks."
BIM modeling was used extensively to ensure a coordinated envelope with interior systems. The facade took approximately six months to complete, approximately half of which was poured-in-place concrete. By comparison, it took nearly a year to install the windows, with some of those delays due to the pandemic.
original article >